Williamsburg Areawide Study
On behalf of Orange County Mayor Jerry L. Demings and District 1 Commissioner Nicole H. Wilson, Orange County is pleased to provide information about the Williamsburg Areawide Study.
The Williamsburg Areawide Study is an area in District 1 of Orange County includes the area south of S.R. 528, east of International Drive and West of Shingle Creek, and north of South Florida Water Management District land.
We encourage you to receive project updates by clicking the subscribe button.
What is the study about?
Orange County has initiated an areawide traffic operational study in the Williamsburg census designated place to identify and analyze speeding, cut through traffic, and other issues to improve operations, safety, and maintenance within the area.
What is the purpose of this study?
The study shall develop a prioritized list of regional roadway and intersection improvements, along with transit, pedestrian, and bicycle enhancements. Model analysis and traffic data from the study will provide valuable information and help determine needs and operational deficiencies.
The study plan will also serve as a short-term guide for capital improvement expenditures and in the long term as a basis for coordination between future land use and the area's transportation needs.
What is the intent of this meeting?
The meeting gives area residents the opportunity to review the study analyses and to provide input. Maps and displays depicting study information will be available at the meeting for public review and comment. Project representatives will also be present to discuss the study and answer any questions.
The Community Meetings and hearings are held for residents and property owners to contribute your input. Public input will not be accepted at work sessions.
Study Area
For a larger view click on the study area map image.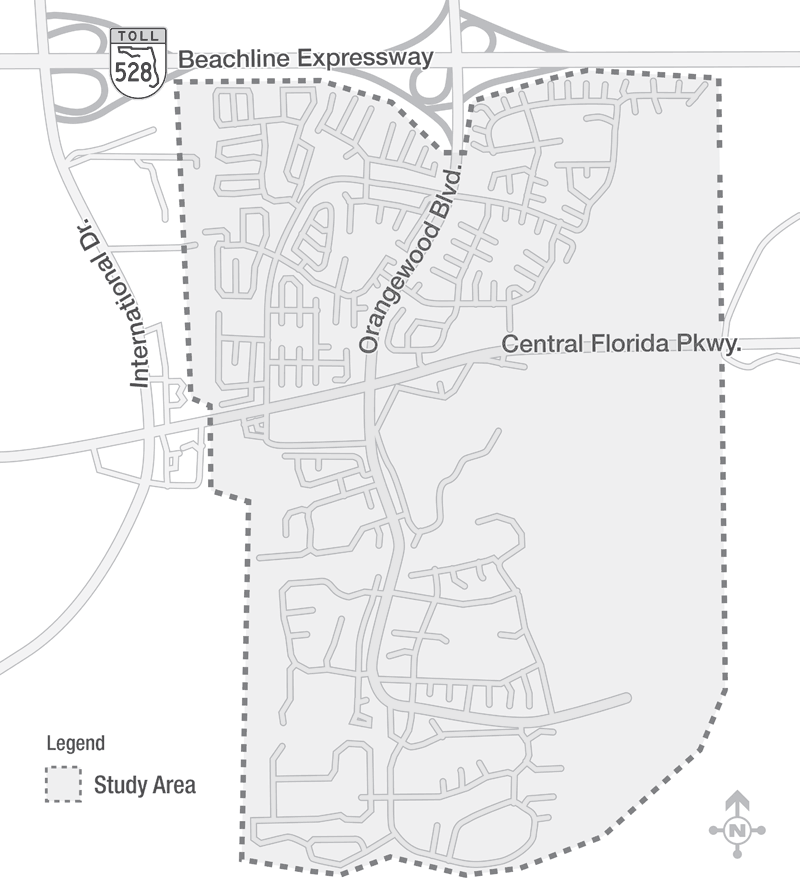 ---
ANNOUNCEMENTS
---
Orange County will host an in-person recommendations meeting Wednesday, May 31, 5:30 to 7:00 p.m. at Freedom High School, 2500 W Taft Vineland Rd, Orlando.
A recording of the meeting and a record of the questions received along with answers will be available on the Project Documents page.
Check back for updates!
---
Interested in receiving project updates?
---
Sign up here to be included on our mailing lists.